Frequently Asked Questions
About Hue & Stripe
---
Q. Is there a walkthrough of the tools I can watch or read?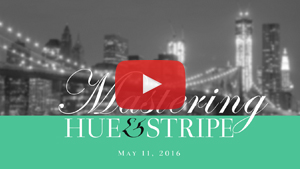 Part 2: Catalogs & Commission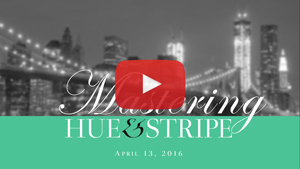 Part 1: Managing Clients & Wardrobes
A. Our latest live community Strategy Session was recorded and provides a full walkthrough of H&S's Closet, Lookbook, Finds, and client management tools!
We encourage you to use the recording as a reference when you need a brush-up on specific tools in your H&S toolbox:
---
Q. What retailers can I use on Hue & Stripe?
A. You can use items from any retailer on Hue & Stripe. (Yes, any retailer!) While not all retailers give commission - though, most do - you can use any items you would like to recommend to a client in the Lookbook and Finds tools.
---
Q. What retailers can I search?
A. Hue & Stripe only partners with top quality retailers with great customer service and return policies. Currently you are able to search the inventories of:
Nordstrom
Bergdorf Goodman
Chicos
Harrods
Shopbop
Dorothy Perkins
Lord & Taylor
J.Crew
Saks Fifth Avenue
Macy's
Dillards
Bloomingdales
and Zappos
Altogether, you have the search power to instantly filter through roughly 80,000 in-stock items from top retailers.
---
Q. What are their return policies and shipping information?
A. See the table below for information about the individual retailers.
| Retailer | Return Policy | Shipping | Headquarters |
| --- | --- | --- | --- |
| Bergdorf Goodman | Free Returns (15 days) | Free Shipping | New York, NY |
| Bloomingdales | Free Returns | Free Shipping over $150 | New York, NY |
| Chicos | Free Returns (60 days) | $4 Shipping (and up) | Fort Myers, FL |
| Dillards | 30 days - pay the shipping | $8.50-$12 Standard | Little Rock, AR |
| Dorothy Perkins | Free Returns | Free Shipping over $50 | London, UK |
| Harrods | Pay the Shipping (international) | 25 British Pounds | London, UK |
| J.Crew | Free Returns (60 days) | Free Shipping over $150 | New York, NY |
| Lord & Taylor | Free Returns | Free Shipping over $99 | Manhattan, NY |
| Macy's | Free Returns | Free Shipping over $100 | Cincinnati, OH |
| Nordstrom | Free Returns | Free Shipping | Seattle, WA |
| Saks Fifth Avenue | Free Returns (30 days) | Free Shipping | Manhattan, NY |
| ShopBop | Free Returns (15 days) | Free 3-Day Shipping | Madison, WI |
| Zappos | Free Returns (no shipping fee!) | Free Shipping | Las Vegas, NV |
---
Q. What retailers can I earn commission from?
A. Hue & Stripe makes it easy to begin earning commission from over 35,000 online retailers. Our list of partners is always changing, so we are unable to publish a comprehensive lookup. You may always reach out to support@HueAndStripe.com to check if a specific retailer you love is on our list of partners.
However, here is a running list of some of the more frequently requested retailers that can earn you commission:
Amazon
Ann Taylor (Loft)
Anthropologie
ASOS
Banana Republic
Barney's New York
BaubleBar
Bergdorf Goodman
Bloomingdales
Brooks Brothers
The Bay
Boston Proper
Chicos
Dillards
Dorothy Perkins
Eloquii
Everlane
Farfetch
Forever21
Harrods
J.Crew
Kiyonna
Lord & Taylor
Lulu's
Macys
ModCloth
Neiman Marcus
Net-a-Porter
Nordstrom
Peruvian Connection
Saks Fifth Avenue
Shopbop
Stella & Dot
Talbots
Zappos
6pm
Note: This list is subject to change without notice.
The following retailers are NOT currently partners of Hue & Stripe, and consequently will not earn commission but you may (of course) still add items from these retailers to Closets and Catalogs:
---
Q. Does my client need a login to access Hue & Stripe?
A. No! We've made it as simple as possible for clients to access their online wardrobes. All they need is the link that you send them using the paper airplane button in the Closet sidebar. That link is a permalink that never changes - no matter how many times you update their Finds or Closet items.
They can open that link on
any device
. We recommend you have them bookmark it on their computer and add it to their smartphone home screen for fast access.
---
Q. Can I search by more than 1 color?
A. Indeed, you can! (In fact, we recommend it. The more colors you select, the more results you'll see.) Click the button below to watch a quick demo of how to do a multi-color search on the apparel search page:
Simply click on any of the colors you are looking for in the color grid, and then click the 'Search Now' button.
To clear your selections and start over, simply click 'Clear Selections' underneath the 'Search Now' button.
---
Q. My image uploads are going slowly. How can I speed things up?
A: If your images are uploading slowly, then it is likely due to one or both of these factors:
Slow internet connection speeds
Large filesizes
Photos taken from high-end mobile phones can weigh in at over 6MB each! (Way too large for web use.) While Hue & Stripe automatically resizes your photos once they're uploaded, the upload itself can be very slow if you have 50 photos at 5-6MB each (that's 300MB!).
We recommend resizing your photos before upload if you would like to speed up your upload process:
For Windows users, we recommend downloading the appropriate image resizing script for your operating system above. You will then be able to shrink the photos for web upload.
Windows: Photo Resize Script » ← Download this script!

For Mac users, 'Preview' (a free program already included in Mac OS X) can do the job. Follow the tutorial above!
Mac: Photo Resize Tutorial » ← Follow this tutorial!
We recommend resizing your photos between 800px - 1300px or 250kb in size.
---
Q. Can I add things from around the web to a 'Finds' section?
A: Yes you can, using the Hue & Stripe bookmarklet!
Simply drag this link:
✂ Clip It! ← Drag this button onto your bookmarks toolbar (or favorites toolbar)
to your browser's bookmarks bar. Then click the bookmark that is created when you are on a page you'd like to link to from your client's or Catalog's 'Finds' section. Voila!